Home
Send us feedback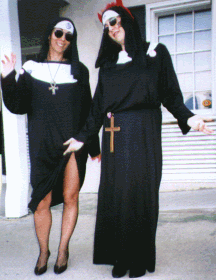 What kind of person does security escorting with SJCDC?
Introduction
Hello and welcome to our page. We will try to update items every couple of months. SJCDC is an independant and non-partisan organization. We may appear to be partisan, since we have such strong feelings against the Republican Party. We will speak up against anyone who jeopardizes or threatens the right to choose. Historically, the Republican Party has been at the forefront of attacking the right to safe and legal contraception and abortion. Additionally, the GOPs have been consistent in their opposition to reality-based safer-sex education, humane health care, personal freedoms and women's rights. Their 1996 Presidential ticket, Bob Dole and Jack Kemp, reflected a shameful record of opposing abortion rights. Bob Dole, who was an unapologetic figure in the Nixon and Reagan Administrations (and he wanted to talk about character!) voted 107 out of 113 times against a woman's right to choose, during his tenure as a US Senator. While serving in the House of Representatives (1977-1988), Jack Kemp cast 45 votes on abortion and reproductive rights. All 45 were anti-choice votes. The Newt Congress, which is still running amok in Washington, is full of anti-women legislators who are determined to overturn the Roe decision that legalized abortion. Since the most prominent GOPs are so strongly anti-choice and eager to ally themselves with extremist, theocratic groups like the Christian Coalition, they are a primary focus of our efforts to counter the anti-choice gains.
We provided links to various groups with whom we feel supportive or consider to be good resources. The New Jersey Clinic Defense Collective is from north Jersey and also provides great links, including Feminists for Free Expression. Bill Baird, a friend for many years, does not have a page so we listed his snail mail address and phone number. He is ideal if you're looking for a speaker or person to interview. Rational Recovery and SMART Recovery programs are brilliant and pioneering alternatives to "higher power" and 12 Step- type programs. RR, SMART, and similar programs are often overlooked in media circles, social work agencies, the medical community, and even some judges (who have actually ordered some people into AA or NA specific programs). Check out the highly informative page of the Institute for First Amendment Studies. They currently provide a complete membership list of the extremist, theocratic, right-wing Council on National Policy. Some CNP familiars include: Ralph Reed, James Dobson, Gary Bauer, Amway's Rich DeVos, Phyllis Schlafly, Howard Phillips, Paul Weyrich, Beverly LaHaye, Jeffrey Coors, R.J. Rushdoony, and Reagan- era criminals Oliver North and Edwin Meese III. For the adventurous and/or unconventional among you, we provided a link to Beautamous Links.
If you saw the film, A TIME TO KILL, you caught a glimpse of some of our experiences with subgroups within some of the large, well-known organizations (the scene where a church leader and NAACP representatives visit the defendant and his lawyer). So if our attitude in that area occasionally manifests itself, you'll know where we're coming from. We were very fortunate to have worked closely with an clinic Administrator named Diane Straus, who until her retirement from the field (February, 1994) was a great services provider, brilliant strategist, supportive and humorous person, and fabulous media spokesperson for this area. Her media savvy was especially appreciated since we underwent numerous embarassments from the public statements of some of the big players, when they charged in (starting with the first "rescue"). Since 1989, we've been siblings with Northeast Clinic Defense (in Philadelphia), with whom we seemed to have the most in common. For the record, we do see value in the large organizations. They have the resources for major lobbying efforts, as well as the means to call for a large-scale legislative alert. However, most of the dedication, strategies, and effectiveness have come from the smaller, independant groups.
We may seem like we're fighting a giant. In certain ways we are, but we see the overall movement toward theocracy and conservative extremism, which propels our opposition, to warrant our determined resistance. However, we are optimistic. We feel that the defeatist remarks made by some abortion rights advocates as well as providers are inappropriate. The anti-choice people have failed on every front. Despite having strong support from the dominant GOP Party, since 1980, they failed to pass legislation to outlaw abortion. Despite some of the horrors appointed to the Supreme Court by Reagan and Bush, the Roe decision has not been overturned. And despite the escalation of violence and inflammatory rhetoric, thousands of people dedicate themselves to protecting all who enter the clinics. The courage of each doctor, administrator, staffperson, security guard and escort, who remains dedicated to providing reproductive health services, is further testimony on the failure of the holy warriors. The manipulative rhetoric of the anti-choice movement has failed to generate popular support. The increase of terrorist activity has harmed their cause and prompted long-overdue investigations. Their bombs and guns have blown away their own potential to be any kind of relevant political force. The leaders of their primary sources of support have been overwhelmed with scandals. The GOPs: Iran-contra, rampant corruption, extremism, Dan Quayle. The evangelicals: Pat Robertson's for-profit broadcast empire (see Books), numerous sex scandals, numerous fraud scandals, Oral Roberts. The Catholic Church: large-scale pedophilia, large-scale cover-ups of pedophilia (at all levels of the church), violations of their tax-exempt status, Cardinal O'Connor.
We were more than slightly amused when we heard news reports about the sex scandals of Roger Stone, from the Dole campaign. Stone was a propagandist for the Reagan campaigns and had a penchant for crafting strongly worded rhetoric about "morality" and "family values." When reporters uncovered accounts that Stone and his wife Nydia placed swingers ads in magazines and the internet last September, we became curious about how they actually define morality. Ordinarily, it would be easy and appropriate to say that their activities with other consenting adults is no one's business, but considering that Stone helped to create the framework in which repressive conservatives and moral zealots operate, we had a good laugh seeing yet another moral crusader become (ahem) exposed. His denials were also amusing. One has to wonder how a former wife, or business associate (depending on which version you consider believing) obtained recent and revealing photos of Stone and his current wife (who are looking towards the camera). Do moral crusaders who have a wild side think about what they could be doing to themselves, if they succeed in establishing more repressive legislation?
We support the soft and hard voices of clinic defense, as well as clinics who take full measures of preparation for self-defense. We abhor the tendancy on the part of some public officials and some of the media to tremble and treat the anti-choice extremists with kid gloves. After over two hundred bombings, and one dozen shootings, the violent factions of the anti-choice movement have proven themselves to be the number one perpetrators of terrorism in America.
One of our survival tools is humor. Since 1989, Monty Python's Every Sperm is Sacred has been one of our anthems. We have also been known to collect great cartoons and satirical writings. We have far too many cartoons to add to the humor page, but there will be more soon. A future attraction will be the inclusion of clippings and various bits of information.
It was regrettable that Planned Parenthood's excellent publication FRONT LINES was discontinued. They did a fantastic job exposing the growing links between anti-choice extremists, the "militias," and white supremacist groups. Chip Berlet of Political Research Associates, BACORR, and Body Politic (publication) are among the best remaining sources of information that we are aware of. We also hope you like our lists of books, videos, and CDs. Hopefully, you can enjoy new material you may not have been familiar with. We seek to inform and entertain.
Thanks for visiting and hope to hear from you.
- The Officers of South Jersey Clinic Defense Coalition
| | |
| --- | --- |
| | |
Thanks to:

Sandi Vito - President of NARAL-PA
Margaret Downey - President of Freethought Society of Greater Philadelphia
Northeast Pro-Choice Coalition (Philadelphia)
ACT UP/ Philadelphia
Bill Baird
Joni Scott
The Jane Collective
Anne Bower
Condom Lady (Philadelphia)
Kerry Miller
Edith Springer
LaSara W. Firefox
Dana Granquist
Jackie Joice
Cassie O'Connell
Underground Railroad (Temple U. Social Work)
Melanie Kaye
Joe Keithley
Ruth DeWitt
Leslie Anastasio
Coalition Against the Promise Keepers
Jonathan Blank
Paul Krassner
Jello Biafra
Joan Clark
Wendi Felson
Debra Sweet
Michelle Gross
Fred Wallace
Janey Lee
Richard Seron
Sabina Deathbush
Flo Kennedy
Karen Bell
June Barrett
David Gunn Jr.
Ellen Goodman
Maryanne Vollers
Bunnie Riedel
Sue Braga
Bob Makin
Kiyoshi Kuromiya
Bill Willis
Chip Berlet
Brenda Loew
Jill Nagle
Carol Queen
Susie Bright
Debbie Espen
Joycelyn Elders
Candace Gingrich
Tanya Melich
Al Franken
Church and State magazine
Wooden Shoe Books and Records (Philadelphia)
Eileen deParrie